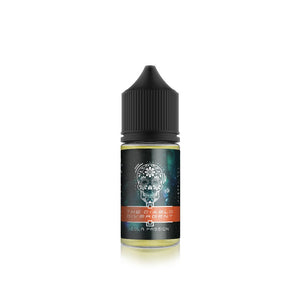 The Diablo Divergent - Cola Passion 20ml Shortfill (ideal for 6mg Vapers)
This is one for the Passion Fruit lovers!
El Diablo's sexy Passion Bomb blended just perfectly with Manabush's Traditional Cola.

A straight Traditional Cola Flavour (from Cola Beans NOT syrup! - think Cola in a posh bottle - not a can!) lovingly combined with El Diablo's Passion Bomb : Temptingly sweet and seductive.  A bold mix of passionfruit and dragonfruit with a strawberry and apple twist.  This crisp, fruity mix will leave you wanting more...
Over strength and designed to be used with nicshots.
Available as :
50ml Shortfill (in a 60ml bottle) - the best for 0mg/3mg Vapers 
20ml Shortfill (20ml in a 30ml Bottle) - the best for 6mg and above vapers
Nic Shot Not Included: This flavour works well with 50VG Nicshots for a more MTL vape, or 70VG or 100VG Nicshots (for a more DL vape).  Please select your desired nic ratio.

---
We Also Recommend